Ontario Lamb Company is a division of Newmarket Meat Packers, a leading provincial processor of domestic lamb, goat and veal. Newmarket Meat Packers is a family business with nearly half a century experience within the industry. Since 1968, when early founders and partners Nick D'Elia Sr. and Gino Plastino launched Newmarket Meat Packers they have been widely recognized for their high quality product, professionalism and industry support. Newmarket Meat Packers has been family owned and operated for more than four decades and today the D'Elia and Plastino Families provide continuing leadership, commitment to excellence and industry innovation.
Ontario Lamb Company and Newmarket Meat Packers products can be found in a wide range of outlets including multi-location supermarkets, independent butcher shops and food service operators across Ontario. Originally, the company began by dealing in beef and pork. Today they focus on the high demand niche market for small stock and have become one of the largest lamb and goat abattoirs in Canada, delivering more than 100,000 lamb, sheep and goat, along with more than 12,000 veal throughout Ontario each year.
Ontario Sheep Marketing Association (OSMA) recognizes Newmarket Meat Packers as an industry leader. www.ontariosheep.org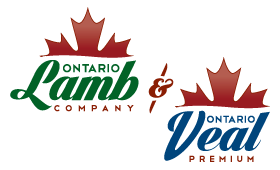 Why Ontario Lamb Co.?
HALAL assured
Our lamb and veal is locally produced.
Working with Committed farmers
Ontario Goat also available
Freshest Product & Highest Standards
Safety / Quality Assured, Full Traceability System
Canadian Pride Ontario Quality
Nutritional Facts
Lamb is a great source of protein, essential vitamins and minerals.
A regular 3-ounce serving averages about 43% of the Recommended Daily Allowance (RDA) of protein. It also averages 74% of the RDA of vitamin B- 12, 30% of the zinc, 30% of the niacin, 17% of the iron, and 15% of the riboflavin.
In addition to this, the correct ratio of all 8 of the essential amino acids is contained in lamb meat .
The Ontario Lamb Co. Commitment To Excellence
Ontario is an ideal place to raise prime quality lamb. The fresh air and green farmlands of the province provide an excellent breeding ground for livestock. This ideal environment together with the highly-skilled workforce at Ontario Lamb Co. provides customers with the finest and freshest lamb products.
Our workers strive for customer satisfaction and produce superior fresh and frozen lamb cuts of the highest quality and taste, every time.